Canva is a popular graphic design tool that allows users to create professional-looking designs without the need for extensive design skills. With its user-friendly interface, diverse library of design templates, and advanced editing features, Canva has become a go-to tool for individuals and businesses alike.
In this article, we will cover everything you need to know about using Canva and downloading canva for social media templates, professional design creation, collaboration and teamwork, and design resources and tutorials. We'll also take a look at Canva's pricing plans and subscription options.
If you want to know more about interesting facts click here:
Canva was launched in 2012 by co-founders Melanie Perkins, Cliff Obrecht, and Cameron Adams and also has offices in Sydney, Australia, Belleview, Colorado USA, Manila in the Philippines, and Tokyo, Japan.
With a goal of democratizing design, Canva began with just some basic tools and has now evolved into an extensive library of graphic design platforms. The company has grown exponentially since its inception in 2012, rapidly acquiring teams and office locations around the globe. As of now over 15 million users across 190+ countries make use of Canva's products and services.
How canva is used:
Canva has become a go-to resource for millions of people who need design help—but what else do you know about this powerful creative tool? Here are ten facts about Canva that will open your eyes to why people all over the world love and use the platform. Canva is an online design and publishing platform with more than 15 million users around the world.
Canva is a powerful and user-friendly tool that enables anyone to create professional-looking designs." – Neil Patel
Canva can be accessed and used online through its website, which requires an internet connection. However, Canva also offers a desktop application for Windows and Mac that can be downloaded for offline use.
Go to the Canva website and log in to your account.
2: Then log in to your account with Gmail, Facebook, and email account
3: Click on the "Download" button located at the bottom of the screen.
4: Select the appropriate version for your operating system (Windows or Mac).
5: Click on the "Download" button and wait for the download to finish.
6: Once the download is complete, open the installer and follow the instructions to install Canva on your computer.
Canva's library includes more than one million images, illustrations, patterns, and shapes to create designs with unique looks for different uses and purposes.
Canva offers a huge library of images, illustrations, patterns, and shapes to make it easier for you to create unique and professional designs in just a few clicks. From compelling photographs and captivating visuals to eye-catching icons, there's something for everyone. Plus, plenty of templates help users create personalized graphics even faster. Whether you need business cards, social media banners, logos, or presentation templates – it's all within reach on Canva.
How to remove background in canva:
To remove the background in Canva, you can follow these steps:
Open Canva and create a new design: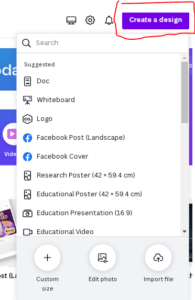 In the Upload, section click on upload file from your browser
Select the image which you upload otherwise drag and drop the image in the design in which you want to remove the background then click on that image
Wait a moment while Canva automatically removes the background from the selected element.
How to download images in canva?
Canva is a simple, user-friendly platform that enables everyone to create beautiful designs. From logos and posters to presentations and newsletters, Canva makes design easy for amateurs and professionals alike. It has powerful editing capabilities, thousands of templates to choose from, and dynamic elements like frames and effects. As of today, Canva has more than 15 million users from around the world.
Languages:
Canva supports 40+ languages including French, German, Spanish, Portuguese, and Japanese as well as fewer spoken languages like Norwegian, Swedish Hindi from India & Simplified Chinese from China.
This supports the company's vision to make graphic design accessible to more people across the world. Canva's wide range of language support also allows users to create designs in the language they are most comfortable with. This eliminates any potential language barriers and creates a truly international platform for creatives from all walks of life.
Canva work.
Canva has not just been a support to individuals and small businesses, they have also worked with a number of large well-known organizations. The company has provided design solutions for McDonald's, TEDx Sydney, and Sony Music to name just a few. Lounging back on its impressive client list, it's clear that Canva is already taking the graphic design world by storm!
Canva offers a range of design templates for various purposes, such as social media posts, presentations, flyers, business cards, and more.
Canva Pro plan and the Canva Enterprise plan:
The Canva Pro plan is designed for small teams and individuals who require additional features and functionalities beyond what is available in the free version. With the Pro plan, users can access additional design elements such as premium templates, images, and graphics, as well as collaborate with team members on designs in real time. The Pro plan also includes unlimited storage and the ability to create custom templates and brand kits.
 Canva for Education:
This program provides free access to Canva's premium features and resources to educational institutions around the world.
With Canva for Education, students and teachers can access a range of templates, images, and graphics to create presentations, posters, infographics, and other visual materials. The program also offers collaboration features, allowing students and teachers to work together on projects in real time.
To access Canva for Education, eligible institutions must apply for the program through the Canva website. Once approved, they can set up accounts for their students and teachers and start using Canva's resources for educational purposes.
Conclusion:
Canva is a versatile and user-friendly graphic design platform that offers a range of features and resources for individuals, businesses, and educational institutions. From its drag-and-drop interface to its vast library of templates and graphics, Canva makes it easy for users to create professional-looking designs without any prior experience. With its commitment to social responsibility and constant innovation, Canva has become a popular tool for designers and non-designers alike. Whether you're creating a social media post or a presentation for work, Canva provides a wide range of options to bring your vision to life.